According to the customers need TFPIPL highly qualified designers evaluate developing data and implement in Transformer design as per the customer need.
Following manufacturing steps are strictly followed by TFPIPL to achieve our best unmatched quality of the product.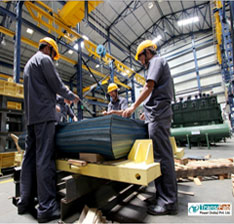 Step 1
Core and Core Coil Assembly – The core of the Transformer is built from high grade laminated sheets of silicon steel alloy. The Cold Rolled Grain Oriented sheet steel (CRGO), having M4, MOH, ZDKH grade or laser treated silicon steel are used as laminations for core assembly. To reduce major losses in Transformer like core loss/ eddy current loss and noise effects. Cutting is done by means of most modern CNC core cutting machines for step lap construction. The laminations are compacted and clamped together using yoke clamps and tie bar, locking the 'top and bottom' yoke clamps together.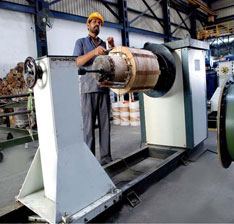 Step 2
Winding - The process of winding of the Transformer illustrates once again TFPIPL attention over quality and flexibility of manufacturing process and are made of high grade electrolytic copper. The high voltage windings are wound either with round shaped enameled wire or paper insulated wire. The low voltage winding of the distribution transformer are wound using enameled or paper insulated wire or strips. The construction of winding is characterized by high dielectric strength with high resistance to withstand atmosphere surges and the effects of short circuits. Neutral points of the low voltage windings are brought up to the tank cover.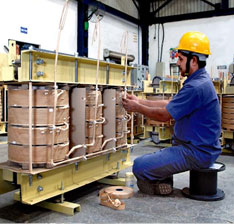 Step 3
Winding & Core Coil Assembly – Winding is assembled on core coil assembly and the connection is made by brazing.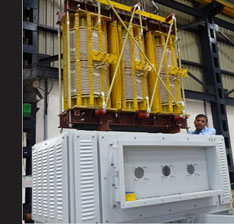 Step 4
Tank and Painting - The tank sides are made of corrugated panels in order to increase the cooling area for transformer oil. Corrugated panel welding is done by welding robot ensuring a consistent and leak proof weld. Tanks are shot blasted and leak tested as per ISS. Final painting process includes shot blasting and thorough cleaning before applying the liquid / float paint.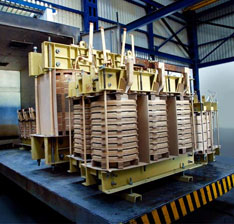 Step 5
Ovening – Assembled core & winding assembly are placed in high degree temperature in oven for drying in order to absorb complete moisture contents in windings and are eliminated.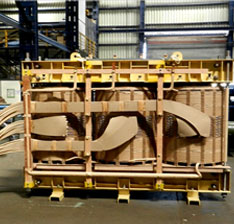 Step 6
Processing and assembling -
After ovening process insulated cylinders are placed around the core to provide the required insulation from the low voltage winding. All windings are supported with the help of yoke and bed of spacers on the bottom which are also free of moisture special care is been taken of the same. Vertical and Horizontal rods are used for proper pressing of the winding.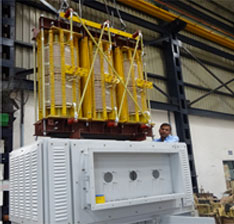 Step 7
Tanking – Complete assembly is placed in the dust & moisture free tank. And is sealed with application of the gasket taking care that no gap is left between tank cover and tank and oil filling is done under vaccum in order to ensure that the insulation provided is free of airvoids which results in increased high voltage withstand strength. The drying and degassing process of the oil is controlled automatically.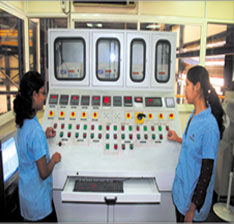 Step 8
Testing & Inspection of the Transformer – Transformer is finally visually inspected thoroughly by QA department. Routine tests are carried out as per the Indian Standards in presence of third party agencies satisfactorily.
Step 9
Dispatch – Ready to dispatch Transformer is brought to the dispatch department and packed as per the customer requirement in presence of the QA & dispatch team before loading in the dispatch vehicle.